Our Mantra: Creating Employable Talent.
To help bridge the digital skills gap we will remain relevant and current by focusing on 4 key areas:
Inspiring.
Inspire more people, from all areas and backgrounds, to take that first step in Digital
Accessible.
Our courses will be accessible to all, we will focus on; Affordability – Aim to make our courses free or funded through Government or Employer support or subsidy. Education – Course completion will be achievable for all educational backgrounds. Equipment – We will provide access to the necessary kit to complete the course. Diversity – We will appeal to all genders, race and age.
Personalised.
Your learning, Your way – Learn from home, our campus, our partner organisation or an employer…or a hybrid of them all. You will have an individual learning plan, and we will support you to achieve your pathway to a positive outcome, whether that's employment or further education or learning.
Employment.
We will involve Businesses and Employers in everything we do, from inspiring to co-creating curricula, interviewing and hiring our alumni.
We can be found at our campus: City Road, Chester, CH1 3AE
Passion.
Digital education pioneers – we are passionate about our mantra of creating employable talent and take great pride in the achievements of our students and colleagues.
Innovation.
Continuously moving forward, innovating, and improving – we care about the small things.
Improvement.
Promote an environment where we can deliver and accept feedback with humility and in a respectful way.
Teamwork.
Work together as a team, do the right things in the right way. We will always be there for our learners, colleagues, employers and partners.
Trusted.
Act with honesty, respect and integrity for the rights, differences, and dignity of others.
Friendly.
Take personal responsibility for maling every day enjoyable, for everyone involved with Code Nation, creating an enviable place to work and learn.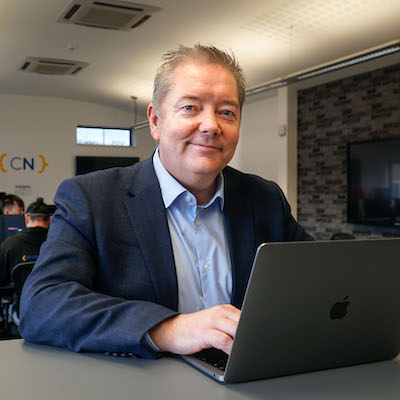 We partner with businesses of all sizes and in a range of sectors to help bridge the digital skills gap. We call our partners Pledgers because they're doing more than just transacting with us; they're joining us on a journey to inspire and hire.